Key Activities 2021
This page provides an overview of activities planned during 2021. However please note that activities may be CANCELLED because of the Coronavirus.
COVID 19

-
During the period January to June 2021 The Lions Club members and Friends provided Stewarding at the Meridian Hall, East Gristead to support the Covid Vaccination programme. See the

Service Page
---
Donkey Derby 25th July 2021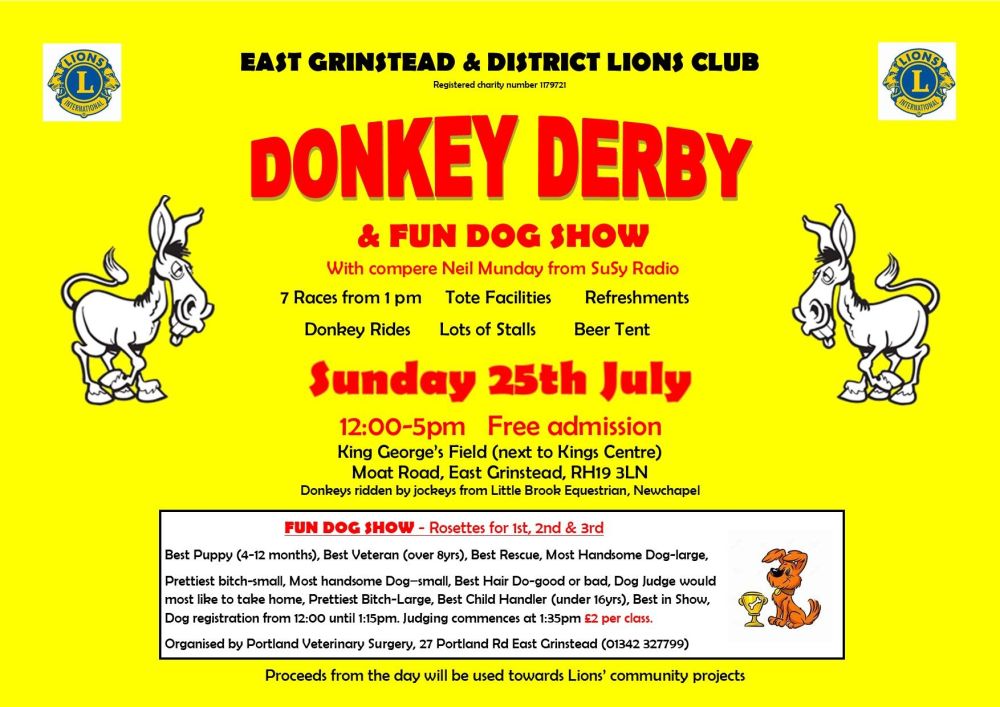 ---
PSA Testing - In November plans have been put in place for the PSA testing day to be held on 27th November 2021. This event will be publicised in the summer of 2021. At that time it will include an invitation to apply for a PSA Test by contacting PCaSO for an appointment at: www.psatesting.org choosing the event 'East Grinstaed' and selecting the time slot available between 10am and 4pm. Experts will be on hand to explain the process. Prior to this testing, Prostate awareness information will be distributed in East Grinstead. Local doctors surgerys will also be advised. See the Service Page
---
Wenceslas Project
-
During March we had invited people in our community to contribute to relieve the hardship being experienced by some people.
---
Book Sales
-
We continue all year to offer books for sale through our outlets at two local Railway Stations, East Grinstead and Lingfield and the new shop on the

2nd Floor

within Martells Store in the London Road. See the

Fundraising

Page
---
Some of the activities have been photographed and these pictures are shown on the Gallery Pages
Updated: 3.3.21